On the Way to Сarbon Neutrality: Uganda Clinic Electrification
Sustainability in business is a topic that has been on everybody's mind for at least a decade. But in the last couple of years it's also on everybody's lips. These days, it might take you a hot minute to find a business that isn't loudly voicing their effort to offset their CO2 footprint, striving for carbon neutrality.

The amount of activities companies (startups and enterprises alike) can perform to achieve carbon neutrality is countless. But here's the tricky part: what does it take for a company whose main business is digital–like Semrush–to become climate-positive? Well, here's what: Give back to where you take from. In our case, we are talking about energy.

In the past, we took minor steps towards social sustainability in different domains, but to make a concise and purposeful action we wanted to find a direction we'll be following long-term. And in this article you'll learn more about our first steps.
Context: Energy as a catalyst
Energy is a catalyst for sustainable development. There's a belief that the world has to be–and also can be–completely powered by renewable sources of energy by 2050, and everybody will play their part in this. Those who are not on track with the changes in the world might sooner or later realize that it's become too late.
In 2022, we teamed up with several NGOs and worked out ways for Semrush to support the big cause. Our main question was: how, with a monetary donation, could we make a real difference where it's most required? A clean, sustainable form of energy can provide the light needed for households and schools, the power for water pumps and electrical appliances, and can ultimately catalyze both economic growth and human development.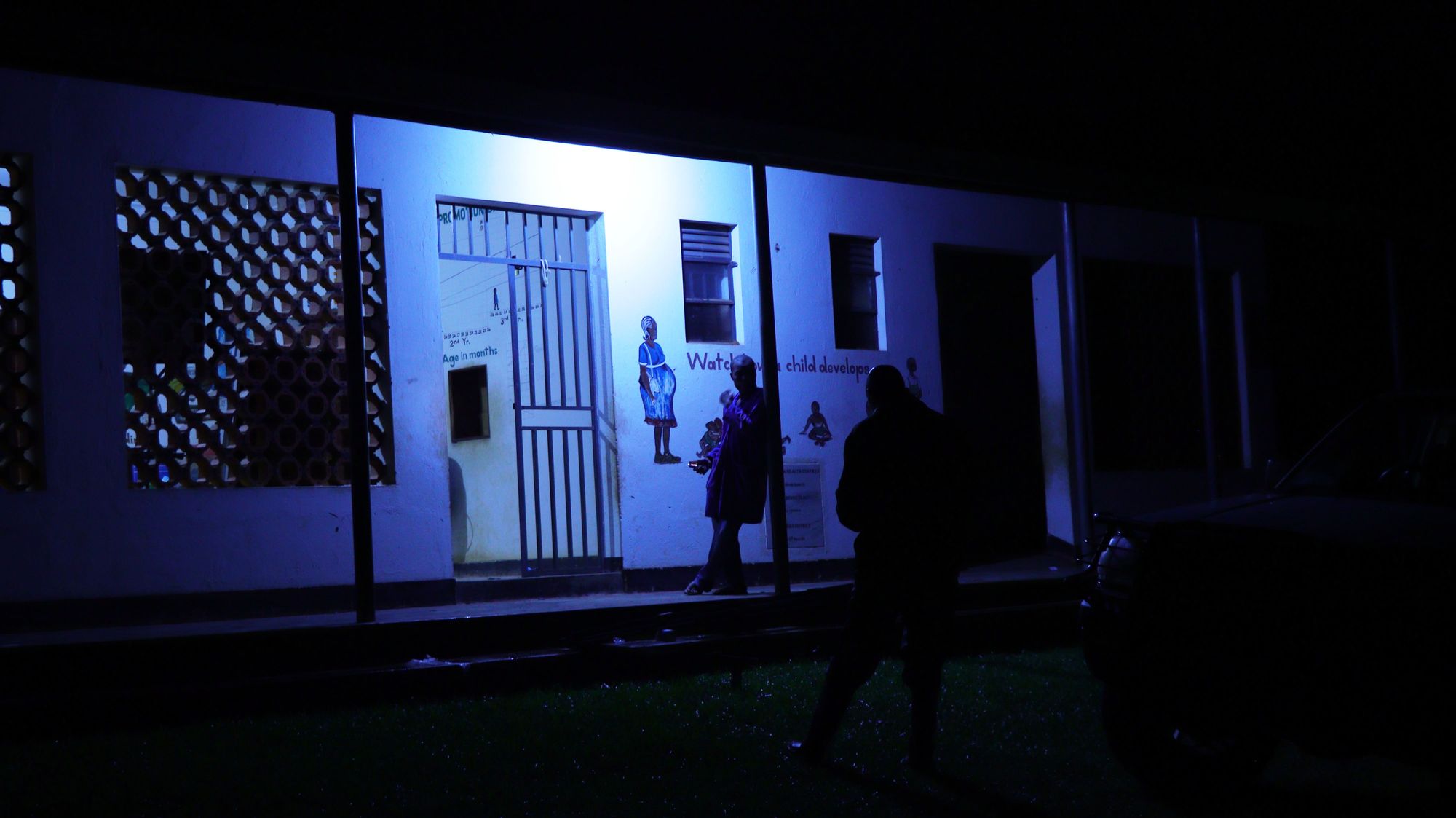 Action followed: our US-based partner, Let There Be Light International, a non-profit organization with a focus on clean energy, led us to the project that matched our needs and fit our perception.
Step 1. Selecting the NGO
But let's go back a little. First things first–we needed to select the right trustworthy partner to collaborate with.

The selection of an NGO took us a few months, when we established the following criteria:
A proven track record with social sustainability projects that reached a successful outcome;
Ideally, a local team in the field who would take care of the project from A to Z, ensuring not only the execution but also the follow-ups and reporting;
And naturally, the organization needed to mirror our values and ideas in their approach towards actions taken.

Let There Be Light International (LTBLI) was at the top of our list from the very start. The main focus of this NGO was combating energy poverty by electrification of health centers and clinics in the most secluded regions in sub-saharan Africa, specifically Uganda, Kenya, and Tanzania–so here, it was a match!
A very important factor that reassured us about the possible cooperation was a team based directly in the region, plus a proven track record of cooperation with local health ministers. LTBLI workers are constantly in touch with people who are directly affected by donations, i.e. local doctors, nurses, and visitors to the clinics–which, in turn, helped to assess the real impact of the support provided.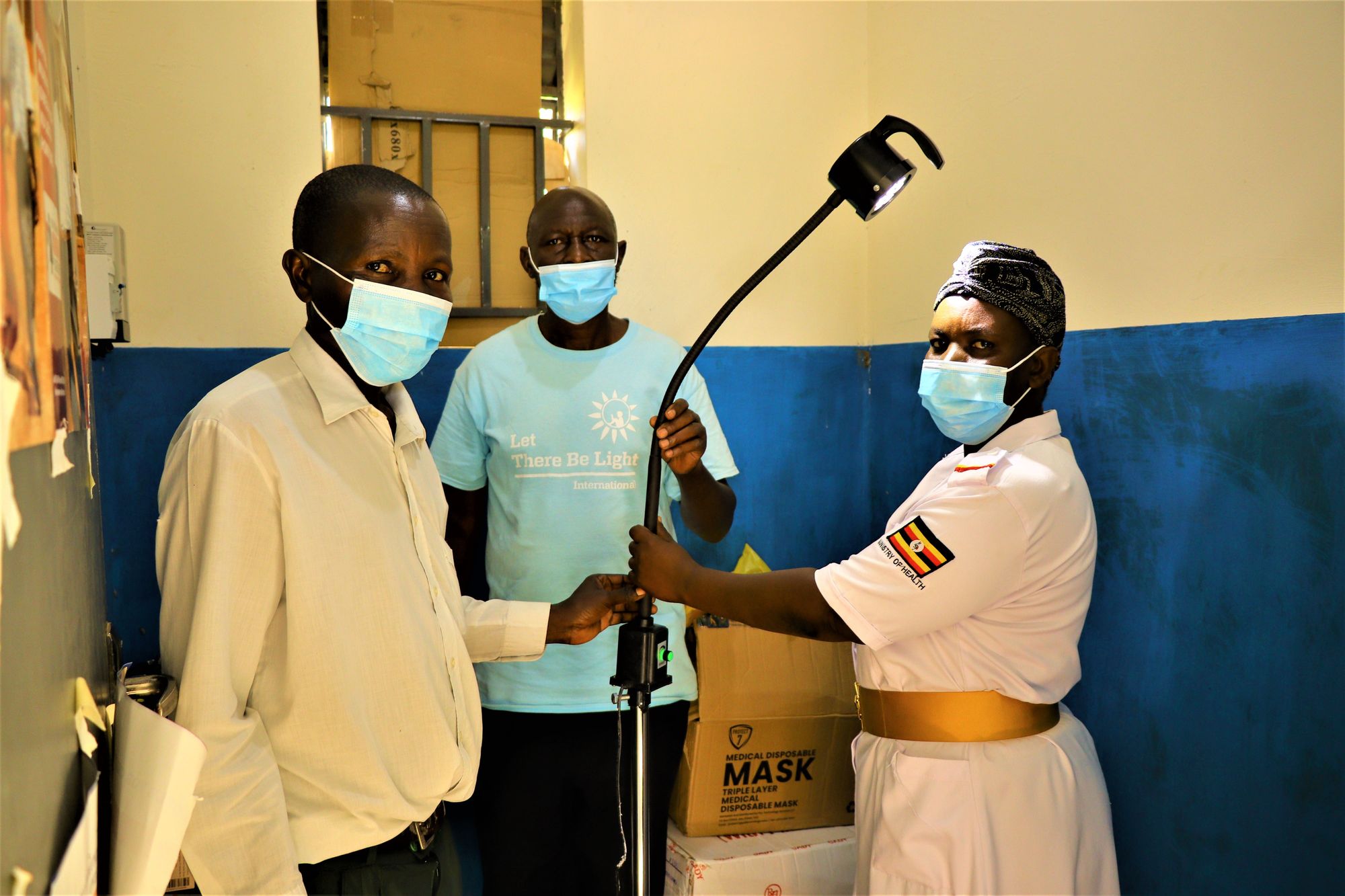 Another additional advantage of cooperating with LTBLI was the fact that the consultants always took extra care about educating the locals on energy poverty and the ways to handle it effectively. It is one thing to provide electricity and solar panels as a one-off project; another is to sustain them and make communities profit from these new installments to the max.
Once we set up the collaboration with LTBLI, a number of educational meetings and a deep-dive into the context followed. We learned that according to the World Health Organization, only 25% of all health clinics in sub-Saharan Africa are connected to a reliable source of electricity. Off-grid clinics often are unable to provide critical care services after dark when health care providers must rely on candles, kerosene lamps, flashlights, and mobile phones for light. Quite hard to imagine, right?
Step 2. Selecting the project
We knew that one of the ambitious projects that LTBLI supported is exactly where we, as Semrush, can make an impact. The numbers sounded quite convincing, too. In clinics that have been solar-electrified, the hours of operation have increased by 40%, attended birth rates have risen by 150%, and staff turnover has decreased.

LTBLI informed us that all these clinics end up having a secondary function as community centers for local people, as they are easily the only electrified place for miles away. They serve as a hotspot for local villagers to charge their phone or heat up water–things so common in modern society, but not easily accessible in many third-world countries.

We wanted our donation to be large enough to cover one of these electrification projects, but still trackable for one particular clinic opening. Once everything was agreed upon, we started waiting. The idea was that the exact clinic might emerge at the beginning of the year, and action would be taken from there.

To our surprise, the wait wasn't that long. At the beginning of November, not even a month after our first donation, the LTBLI team informed us that a clinic in Sironko district in Uganda appeared on their list–and this is how Semrush became a sponsor of Nampanga Health Center III by the end of 2022.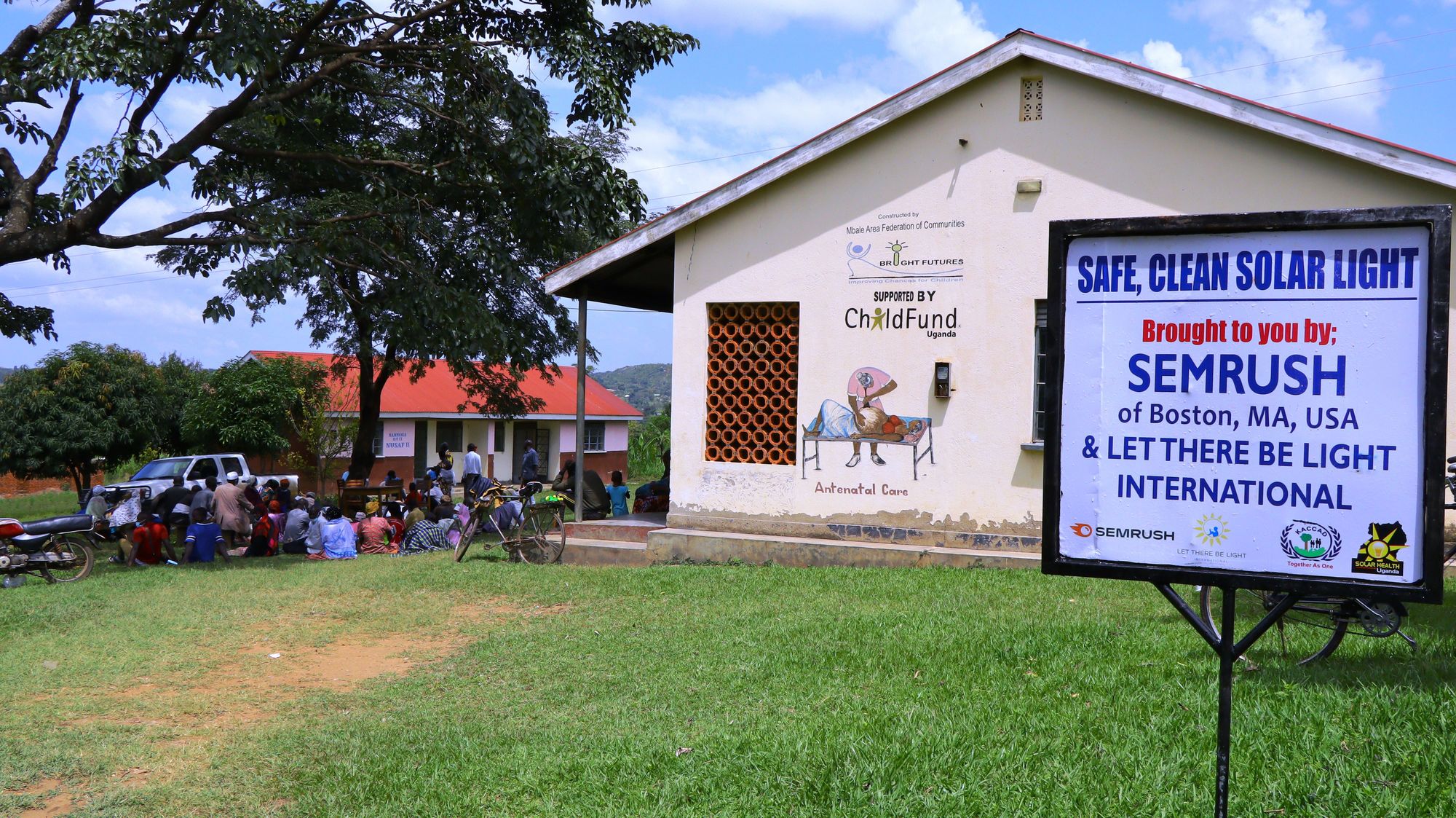 Step 3. Execution
Nampanga HCIII had two structures–the health facility and the staff house–both in desperate need of electrification. The grant donation from Semrush was assigned to be used to procure solarization materials (solar panels), their transportation, the work of field consultants, payment to the technicians' team, and procurement of the examination light.
The local LTBLI team traveled 285 kilometers to arrive at Nampanga HCIII in the early morning of November 21, 2022. District officials from the Health Department, members of the community, and technicians gathered on the spot. Once the solarization materials and examination lights were handed to those in charge of the health clinic, the technical team started installation.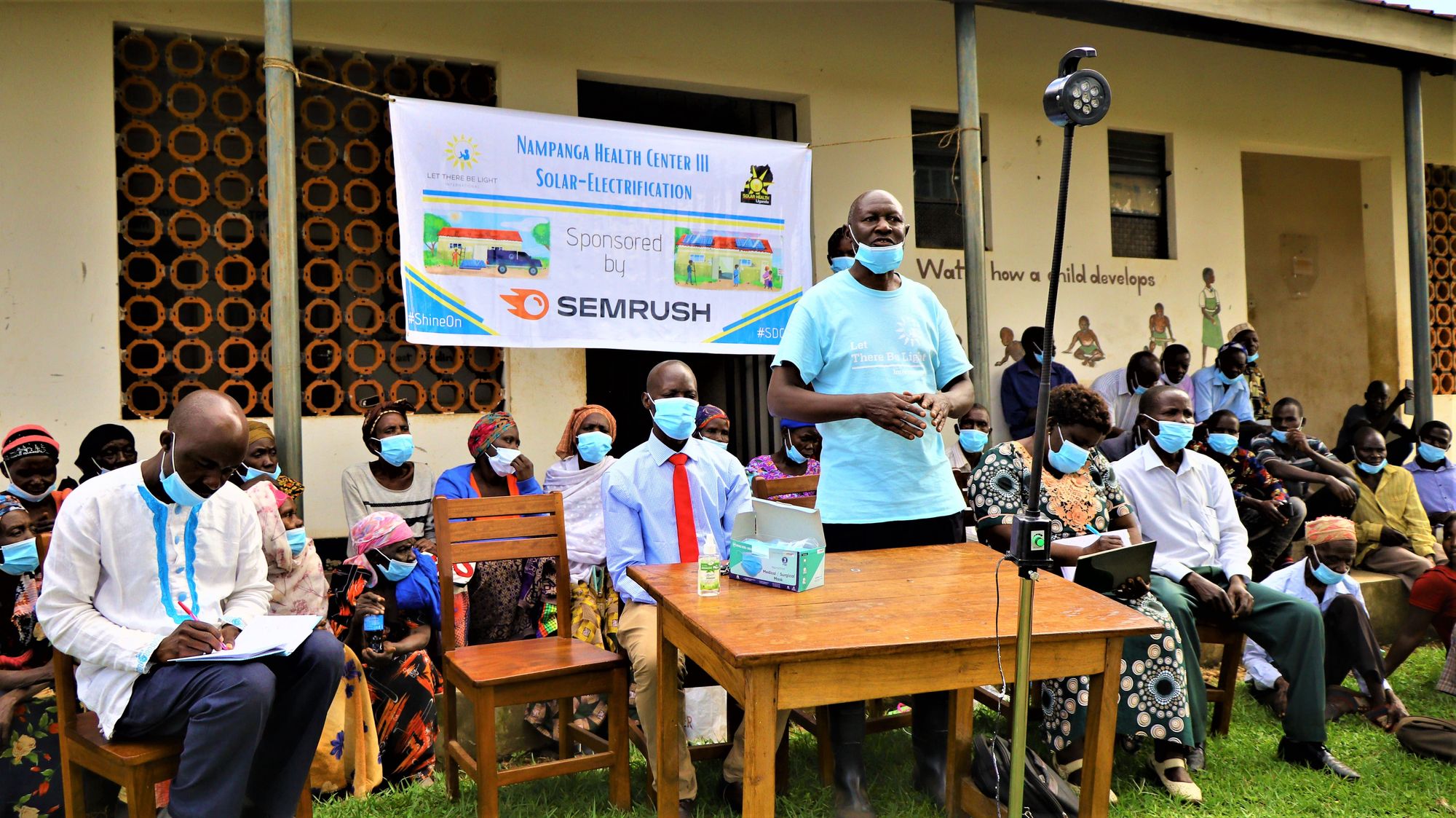 "Our main challenge has been with the mothers who come at night. Examining an expectant mother when your torch or phone is held in her mouth is really challenging! But now that we have got solar light we shall be attending to the mothers without difficulty. We thank Semrush and Let There Be Light International for bringing us clean light," commented Hadijah Kwaga, the head of Nampanga Health Clinic.
Additionally, Semrush sponsored the purchase and distribution of 100 solar lights, which were brought to off-grid households within Nampanga's catchment area. The LTBLI crew made personal visits to those off-grid homes while educating Uganda people on the benefits of using solar lights.
Celebrations followed: district officials and the local team, as well as the health clinic staff and community members, took part in a grand Health Center opening. The party was more than just about "cutting a ribbon" and "eating cake". The LTBLI consultants hold a speech on energy poverty and communicated the ways how it can be addressed in secluded regions like Sironko.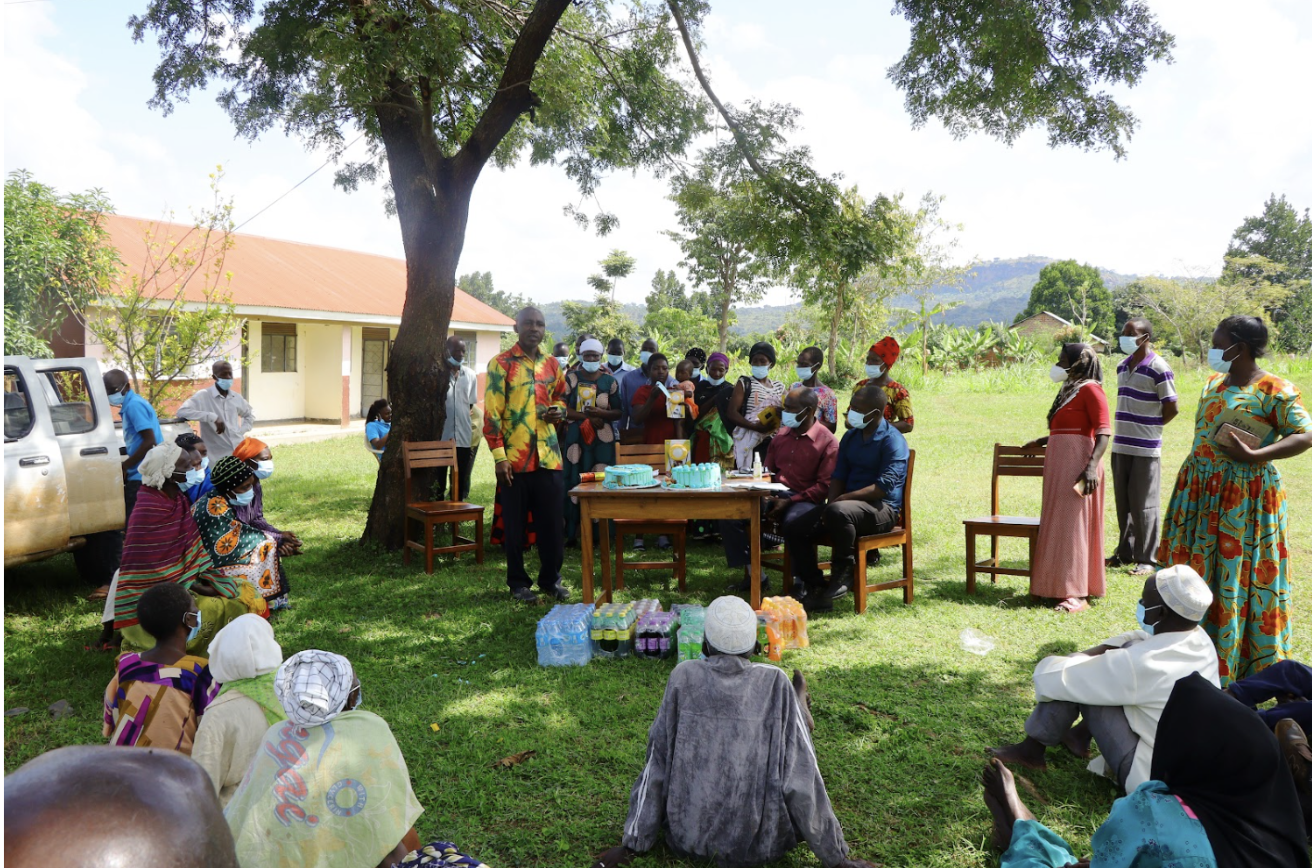 What next?
Good question, thanks for asking :) Of course, we don't plan to stop here. After seeing how many people we could affect so quickly, how many lives have been positively impacted by our actions and support, we keep going.
Clean energy is still our priority in all social sustainability actions, and we expect to continue working on projects that are meaningful not only for the people involved, but also for Semrush and our long-term environmental impact. At the moment, we also cooperate with the Europe-based NGO Renewable World on a non-restricted donation basis. It means that our donation is used to "span the gap" for projects where it's urgently needed.
Renewable World, similarly to LTBLI, engages in clean energy programs in secluded regions, mainly with a focus on Nepal and some rural communities in Kenya. Supporting local communities with climate-smart agriculture training, installation of solar energy systems in health centers, and ensuring electric water-filtering systems–these are just a few projects of Renewable World that we, as Semrush, participate in.
Seeing what's been done is certainly always reassuring, and looking ahead to what CAN (and has to) be done is a little intimidating. But as you know, at Semrush we are never frightened of challenges. Big things await–are you with us?